Puppies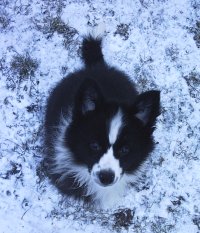 As health is very important to us, we only breed from hip-scored, eye and DNA tested dogs and, if at all possible, the puppies are eye tested and BAER hearing tested at 6 weeks. Our aim is to breed dogs with a solid temperament, which are suitable for any discipline, be it breed showing, agility, obedience, or herding. The Border Collie is a lively breed, needing stimulation to stop boredom. For this reason, we will as a rule not allow a puppy to go to a home where all the family members work full time. A Border Collie is not the right breed for someone who wants their dog to lie on the sofa all day. Our puppies are raised in the house (all our dogs are house dogs), so get used to all the regular household noises from the word go. They're up in the bedroom for the first two weeks of their lives to make things easier for their mum, then they move downstairs into the living room, where they get to see all the other dogs milling around and are in the centre of everything. From four weeks on, we try to get them a new set of visitors every day (repeat visits are also welcome, of course!), with as much variety as possible. They also start going on little car rides, to get used to traveling so their first trip to their new house isn't a big surprise in more ways than needed! We try to find a friend who'll look after them for a few hours in their home when they're between 5 and 7 weeks old so they realise that the world's biggen than just our living room and garden. And around 6 or 7 weeks they get to visit a farm and see some sheep — it's lovely to see puppies showing interest in sheep at that age, it always makes me feel that they really are proper Border Collies ☺ Throughout their development, we follow the
Puppy Culture
Workbook to ensure that the puppies develop into as rounded beings as possible. Puppies will be wormed, microchipped and KC registered (also eye and hearing tested if at all possible), and they come with life-long backup. They also come with a contract, which, along with explaining endorsements placed on the pups, states that in the event that the owner is no longer able to keep their puppy for any reason, they must return the puppy to us or contact us to assist with its rehoming. We do have a waiting list for our puppies, so please get in touch sooner rather than later. To express an interest in an upcoming litter, please
email us
some information about yourself (something about you, your family, your lifestyle, your plans for the puppy — the more the better!).
Fëa
's
second litter
is due mid October 2018, so please let us know if you may be interested. Also, if you are interested in co-owning a puppy, please get in touch so we can discuss this: there may be a puppy we would like to keep in our breeding program and it would be nice if it didn't have to share attention with all our other dogs ☺ We are also planning puppies by
Drifter
, possibly in 2019, please email for further details.